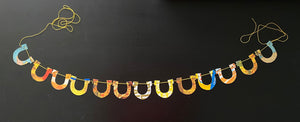 melissa's damn cards
Horseshoe banner
Regular price
$6.00
Sale price
$10.00
Unit price
per
Why just put one horseshoe over the doorway when you can put up a whole mess of them? Perfect for St. Patrick's Day, or any other day where you need some extra luck. A lucky 13 horseshoes hang on the banner.

Details
Material - Upcycled cardboard packaging
*The photo here is representative of what the product will look like. Because letters are made from upcycled materials, each banner will be unique.
Banner is a one-of-a-kind product
Made while swearing in Indiana
---